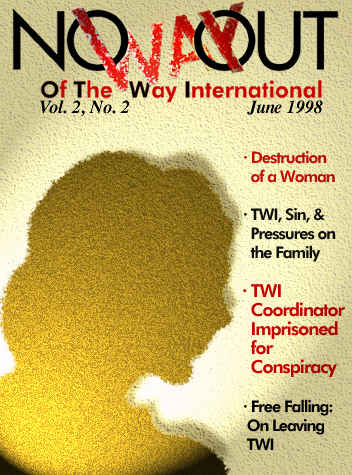 No Way Out

Independent Views on
The Way International
and Associated Groups
Vol. 4, No. 1 -- 10/2000: Secret teachings, allegations of sexual abuse, personal stories, news archive, and more!




MARTINDALE RESIGNS

According to two different local Ohio newspapers, Craig Martindale has resigned as president of The Way International.

According to an article in the Lima News, 09/21/2000, Martindale resigned amid a flurry of sexual allegations:

"The Rev. L. Craig Martindale resigned from his position as president in April after a lawsuit claimed he sexually assaulted a former member. Martindale admitted to having a consensual affair with Frances Allen, who filed the lawsuit along with her husband, Paul Allen."

No Way Out's editor, Carol Van Drie, contacted the Allens through e-mail. They have stated that they will not discuss the case with the media as the lawsuit will "speak for itself" once it is under way.

For more information about this stunning news, visit the "WayDale" web site.

UPDATE: This Thanksgiving week the web site called "WayDale," which was a source of information concerning The Way International and the recent ouster of TWI president Craig Martindale, is being shut down. A general information e-mail was sent out to interested parties, but no reason was given for the shut-down. This site was run by Paul and Frances Allen. The couple is bringing the lawsuit against Martindale charging Martindale with sexual assault. A second lawsuit by another former member was filed in June in Shelby County Common Pleas Court according to the Lima News September 21st article. It also alleges sexual assault by Martindale. Martindale has admitted to a "consensual affair with Frances Allen." No comment has been made public by Martindale concerning the Shelby County lawsuit.

TWI Coordinator Imprisoned -- for conspiracy to commit fraud in Colorado.

Freefalling -- Contributing editor Carol Van Drie explains what it was like after she first left TWI, including the embarrassment of being fooled and the desperation in feeling she had betrayed God.

Destruction of a Woman: "Jennifer" shares the sexual indiscretions of one of TWI's Way Corps, "Lenny."

"TWI, Sin & Pressures on the Family" -- Russ details the accompanying events that lead to him and his family leaving The Way International.

Photo Archives

Letters to the Editor

Archives: Past Issues of No Way Out.

Experiences  News  Overview  Secrets



---



For more information on The Way International:



WayDale: Ceased Publication, See Above.

---
at least


LE FastCounter

since 1/16/97
---
Member of the Internet Link Exchange
---
Please address any questions or problems you encounter on this site to Carol Van Drie. The views expressed do not necessarily reflect those of trancenet.net Society, its staff, volunteers, or donors. Neither trancenet.net Society nor its editorial staff conclude that any group discussed on this site is necessarily cultic in nature. We provide suppressed and alternative information and champion your right to make informed decisions for yourself. Copyrighted works are reprinted with permission as noted or are made available under the "fair use" exception of U.S. copyright law, for research and educational purposes only.
Please send letters to the editor to armywife@pa.net. All editorial correspondence becomes the property of trancenet.net -- unless requested otherwise -- and may be edited for purposes of clarity and space. trancenet.net relies solely on "sharefare" donations from readers like you at http://www.trancenet.net/trancenet/levels.shtml.
---
Except where noted, entire contents Copyright ©1996-1998 trancenet.net. Society.


A trancenet.net publication.
---
To comment on this or any other trancenet.net page, go to trancechat.