6.2. DIFFICULTIES AFTER GIVING UP OF T.M.
Other difficulties listed by people after the termination of links with T.M. were - no apartment (i.e. no place in which to live), bad job prospects and tight financial situation. Meditators who were completely involved in the organization had to build a new existence for themselves, since they had in most cases sacrificed years of time, money, and energy on the T.M. movement.
Table 49: Difficulties in relation to living accommodation, work, financial situation, in social and personal aspect. (more than one indication possible).

Examples:
"He's now living at home again, even thought[sic] he didn't live there before. He's unable to work, can't take any pressure whatsoever and has no income." (1/97)
"He spent 14 days at home and after that had to stay in various clinics; is unable to work. We [parents] supported him financially." (1/97)
"We had to leave our apartment, of which a part was used as the local T.M. center. Our son was only fit to work as an unskilled laborer." (1/97]
"I had to leave Seelisburg and had no place to stay, so I lived with my girlfriend. As regards work, I could do just about nothing." (2/97)
"I had signed a guarantee to a financial institution, which I now had to honor." (2/97)
"Little work satisfaction, headaches, slow in thinking. It took two years for me to start on a new basis. I was also earning a lot less after two years" (2/97)
In the social sphere 57% (21) had difficulties after stopping T.M. Ex-meditators report of social isolation, withdrawal symptoms, desperation and inability to work. Not only were problems resulting form[sic] physical illness alleged, but also as a result of the shift in the framework of perception and the leaving aside of the mantra, which, after years of use cannot be forgotten and crops up in all types of situations; and with it all the memories of the T.M. period. It often takes years before ex-meditators can come to terms with what happens during this time.
Examples:
"A lot of furniture had to be taken away, because they were a reminder of the T.M. thing." (2/97)
"He made several attempts to become independent of Seelisburg. After Seelisburg was over, everything went forward again, and L. was more reality-oriented."( 1/97)
"I had withdrawal symptoms. When I stopped the mediation, I slept an awful lot. During my holidays I took up with the mantra again, and I went all funny again, I just wanted to sleep again," (2/98)
"Since I've stopped meditating, everything with the T.M. people is wrecked, they were really angry with me. They had a huge amount of arguments ready and were able to give me an answer for everything. A friend and two others really let me have it, they were living in the T.M. center." (2/98)
"Towards the end of my T.M. phase I had become so sensitized, that I had to take drugs so that I could make it bearable." (2/98)
"I had no contact with meditators or my social surroundings, I lived in isolation." (2/98)
"Inside I was often just despairing." (2/98)
"I thought I wasn't normal and wasn't suited to the others. I had no pattern anymore, spoke a lot faster and didn't know what to do with myself." (2/98)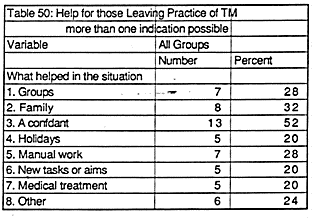 Confidants (52%) and families (32%) were the most common forms of help for those stopping the practice. Also a help were groups, manual work (28%), holidays (20%), new aims or tasks (20%) and medical treatment (20%).

Those meditators could be helped most effectively who still had good surviving relationships to their families, who met with an understanding person with whom they could discuss their experiences, and who in a group took on a cheerful lifestyle (physical, mental or musical activities). In this way ex-meditators were able to build up a critical barrier against the specific T.M. oriented perception of reality. They learned to deal with everyday reality, normal stress situations, and have a relationship with people who were themselves non-meditators.

Up until then T.M. was seen as a fulfilling set of meaningful values. After they stopped T.M., meditators, as a rule, distanced themselves from those meaningful values as well. A vacuum is created which some meditators fill by getting involved in other Hindu-oriented and antrophosophical organizations*, or by conversion to Christianity. 47% of those in our investigation had learned T.M. because they sought a meaningful purpose. They were disillusioned with T.M. They had to look for more durable truths and values.

*[translator's note:] I have used the word antrophosophical; it has to do with teachings like Rudolf Steiners.

[top ]
---