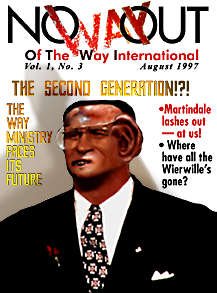 No Way Out

Independent Views on
The Way International
and Associated Groups
Vol. 1, No.3 --9/97: Secret teachings, allegations of sexual abuse, personal stories, news archive, and more!


An Open Letter to Our Visitors from The Way International.

Craig Martindale's Response To Recent News Articles -- Comments L. Craig Martindale made to his followers concerning the recent articles published by The Wapakoneta Daily News.

The Way Ministry II??? -- a detailed account of the systematic removal of the Wierwille name in an attempt to put to rest the alleged misconducts of their founder.

The Way and the Military -- Author and former member Carol Van Drie shares her experience with TWI's interest in the Military.

Private Photo Archive --An inside look at The Way International's grounds, the last Rock of Ages, and the Rome City, Indiana Campus.

Letters to the Editor

Archives: Past Issues of No Way Out.
---
at least


since 1/20/97
---
Member of the Internet Link Exchange
---
Please address any questions or problems you encounter on this site to Carol Van Drie. The views expressed do not necessarily reflect those of trancenet.net Society, its staff, volunteers, or donors. Neither trancenet.net Society nor its editorial staff conclude that any group discussed on this site is necessarily cultic in nature. We provide suppressed and alternative information and champion your right to make informed decisions for yourself. Copyrighted works are reprinted with permission as noted or are made available under the "fair use" exception of U.S. copyright law, for research and educational purposes only.
Please send letters to the editor to armywife@pa.net. All editorial correspondence becomes the property of trancenet.net -- unless requested otherwise -- and may be edited for purposes of clarity and space. trancenet.net relies solely on "sharefare" donations from readers like you at http://www.trancenet.net/trancenet/levels.shtml.
---
Except where noted, entire contents Copyright ©1996-1998 trancenet.net. Society.


A trancenet.net publication.
---
To comment on this or any other trancenet.net page, go to trancechat.

This page was last built with Frontier on a Macintosh on Mon, Jan 11, 1999 at 11:55:51 PM .