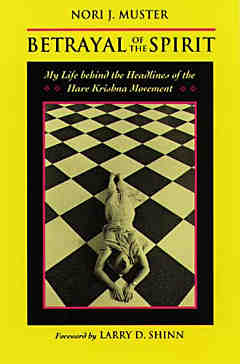 Note from the Editor
Krishna Today is a new trancenet.net Webzine that will bring you up-to-the-minute coverage of the Hare Krishna movement and other Krishna worship groups in the USA, with news, features and editorial comment. The University of Illinois Press has authorized the release of excerpts from my book, Betrayal of the Spirit, My Life behind the Headlines of the Hare Krishna Movement that will be posted at this site on a regular basis. Krishna Today will also feature a question-and-answer forum, so send your questions now. I hope that if you have a friend or relative in the Hare Krishna movement, this site will help you deal with your feelings, understand your relatives' involvement, assess whether he or she is in danger, and establish a working relationship with that person you feel you may have lost forever. Stay tuned for the next issue and send your comments and questions to me, nori@steamboats.com, and visit my site at http://www.bhakti.com/nori.

---

Member of the Internet Link Exchange


Please send questions, comments, problems, and letters to the editor to Nori Muster, nori@steamboats.com. All editorial correspondence becomes the property of trancenet.net -- unless requested otherwise -- and may be edited for purposes of clarity and space. Except where noted, entire contents Copyright ©1998 Nori Muster. trancenet.netTM is a trademark of trancenet.net Society, an unincorporated nonprofit organization. The opinions and viewpoints of contributors do not necessarily reflect those of trancenet.net, its editorial staff, nor trancenet.net Society, its board, officers, employees, volunteers. Neither trancenet.net Society nor its editorial staff conclude that any group discussed on this site is necessarily cultic in nature. We provide suppressed and alternative information so that you may make informed decisions for yourself. Copyrighted works are reprinted with permission as noted or are made available under the "fair use" exception of U.S. copyright law, for research and educational purposes only.


A trancenet.net publication.

Search this site.

To comment on this or any other trancenet.net page, go to trancechat.

This page was last built with Frontier on a Macintosh on Fri, Apr 10, 1998 at 9:12:11 AM .