"Their book is judicious, sensible, well-researched and very frightening."
The New York Times
"What Woodward and Bernstein were to Watergate, Conway and Siegelman may well be to the cults."
United Press International
"SNAPPING is an exciting and responsible and original piece of research which has taught this old poop amazing new ways to think about the human mind."
Kurt Vonnegut
"Conway and Siegelman have not simply updated ... the second edition, they place cultic behavior in the wider context of the communication revolution of our time.... Surprisingly lively reading.... Anyone with an interest in ... "information disease" ... must read this book."
R.E. Schecter, Editor, The Cult Observer
[ order ] [ special message: trancenet.net readers ]
[ contents ] [ reviews ] [ the authors] [ express delivery ] [ credit cards ] [ checks ]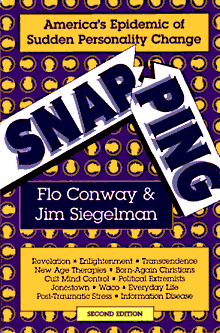 America's Epidemic of Sudden Personality Change
As the information age advances, new ethics must be established ... to ensure that the new era is not one of personal destruction and social regression but one that upholds and encourages human development and spiritual exploration. Ultimately, we believe, every society will be called on ... to resolve the new conflicts building among competing rights and freedoms, and to develop better ways to help the many casualties on this woolly frontier.... We hope this second edition of Snapping will continue to provide insights and help point the way to a healthier, safer, and more fully human future.
--Flo Conway and Jim Siegelman

Controversial cultists, self-help buffs, born-again converts, political extremists...Charles Manson, Jim Jones, David Koresh -- What can they possibly have in common?

"Snapping" -- the term Conway and Siegelman coined to describe the sudden, drastic alteration of personality. The authors show how potent mind-altering practices may impair the brain's information-processing powers and lead to altered awareness, thinking, feeling and free choice, post-traumatic stress disorders, grand delusions and violently destructive acts. Findings in the authors' award-winning "Information Disease" study of the effects of new spiritual and personal growth practices -- along with a special postscript on the tragic Oklahoma City bombing and the rise of extremist "terror cells" of many persuasions -- complete this seminal work that calls for new ways to counter a mushrooming threat to the mental health of America and every civilized society.
The Roots of Snapping
Beyond Brainwashing
Jonestown: End of Innocence
Chaos at Waco: The Death Spiral
The Future of Personality
This paperback second edition includes a new preface by the authors, updates on groups and issues, new information about other religious, political and personal growth enterprises that have attracted large followings in recent years, and a final postscript that explores the tragedies in Tokyo and Oklahoma City.About the Authors: Flo Conway completed her master's and doctoral work at the University of Oregon, where she pioneered one of the first interdisciplinary programs in communication. Jim Siegelman graduated from Harvard with honors in philosophy and was a Fiske Scholar at Trinity College, Cambridge. Their work has been recognized by the National Mental Health Association, the International Communication Association, and featured in Science Digest, Playboy, People, The New York Times, The Los Angeles Times, Forbes, and Ladies Home Journal. They have been on The Today Show, The Tonight Show, Good Morning America, 20/20, Donahue, and Larry King.
---
Orders are processed within 4 days. In case of a backorder, we will notify you. Expect 7-10 days between order and delivery. Express service is available for an additional charge.
More on Our "Information Disease" Study:
A Special Message for TranceNet readers

Greetings to all trancenet.net readers,

We want to let you to know about this new work that supports and extends many of the German study findings on the negative effects of meditation. Snapping: America's Epidemic of Sudden Personality Change, has just been published in a fully updated, greatly expanded, second edition by Stillpoint Press in New York.

Of particular interest to practitioners of TM and all forms of meditation, Snapping deals at length with deleterious effects reported by both casual and long-term meditators. It includes interviews with former TM instructors, practitioners of Eastern meditation methods (Divine Light, Hare Krishna, Unification Church, Rajneesh, Sant Mat, etc.), New Age therapies (Dianetics/Scientology, est/Forum, J.Z. Knight/Ramtha, Insight/MSIA), and extreme fundamentalist and charismatic Christian sects that employ similar mind and emotion-stilling practices (Children of God, The Way, Shepherding sects).

Across all categories, our study found a direct statistical relationship between the amount of time people spend in meditation and related mind-stilling practices and both the extent and duration of their reported negative effects afterwards. Studies of Post-Traumatic Stress Disorder and related neuroscience research are described that corroborate our findings.

Initial findings in this study received a National Mental Health Association award. The data sample was subjected to analysis and review at the University of Oregon Communication Research Center, presented to the International Communication Association, and reprinted in UPDATE, a journal of new religious movements published in Aarhus, Denmark. The full study and complete statistical profile, along with a new graphic presentation of findings and related studies in the psychology and neurophysiology of personality change, appear for the first time in the new edition of SNAPPING.

Flo Conway & Jim Siegelman
[ order ] [ special message: trancenet.net readers ]
[ contents ] [ reviews ] [ the authors] [ express delivery ] [ credit cards ] [ checks ]
go back to trancenet.net home page